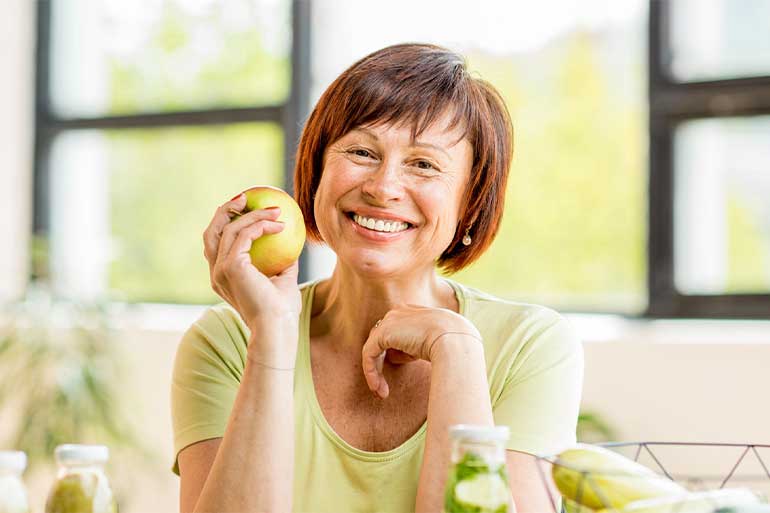 13 Jan

A healthy digestive system improves our mood
Serotonin, the "hormone of joy"
Serotonin is a neurotransmitter with hormonal function and is responsible for the mood, behavior, appetite and the quality of our sleep. A 2015 study in the Cell Journal states that, although serotonin is known to be a neurotransmitter in the brain, about 90% of it is produced in the gastrointestinal tract. In addition to the known effects on our psychology, it is also necessary for the normal functions of the intestine.
Serotonin is produced from tryptophan, an essential amino acid for human nutrition. When there is a disturbance in intestinal function, such as inflammation, oxidative damage, infections or autoimmunity, tryptophan treats these problems. Therefore, diseases such as irritable bowel syndrome, cardiovascular disease and osteoporosis are directly linked to serotonin deficiency as well as mental health disorders.
The axis that connects our brain to the digestive system
Scientists suggest that every human being has two brains, with the second being in our digestive system. Both brains are formed and developed simultaneously by the same type of tissue where one part forms the central nervous system (brain) and the other the intestinal nervous system (digestive).
The health status of our gastrointestinal tract is extremely important for our overall state of well-being. It is largely responsible for the functions of the body's digestive and immune systems. Beneficial bacteria in our digestive system have the ability to affect the body's absorption of vitamins, hormone regulation, digestion, vitamin production, immune response, and the ability to eliminate toxins.
Intestinal disorders lead to mental imbalance
Studies have shown that when our intestine is irritated or inflamed something that usually happens when the body tries to absorb overly processed foods or is sensitive to those foods, the Central Nervous System is affected and mood swings can occur.
New studies show that the digestive function can also affect certain cognitive functions, such as thinking and memory skills.
In addition, people with bowel disorders such as celiac disease, irritable bowel syndrome or leaky gut, are more likely to develop Autoimmune Diseases as well as depression, anxiety and panic attacks.
In conclusion, proper "communication" between the brain and the digestive system is essential to rule out the occurrence of mood disorders.
Based on the above, we conclude that psychological problems such as anxiety, depression, memory problems and sleep disturbances are symptoms and can be often followed by other significant disorders in our intestinal system.
Improving the health of our intestine
The diet of the average European, which is characterized by an increased consumption of processed, sugary and fatty foods, makes the intestine less functional over time and contributes to its gradual deterioaration.
A diet rich in processed carbohydrates and gluten can be harmful to the brain, as it allows harmful bacteria in the gut to grow rapidly.
Detecting the underlying causes of pathological conditions
The highly specialized innovative Metabolic Profile and Gastrointestinal Mapping diagnostic tests can assess the status of the intestinal microbiome and the functions of our gastrointestinal system. Their results help the Health Specialists understand the true causes of diseases and thus implement personalized therapeutic protocols that will restore the cellular and biochemical deviances diagnosed. This way the gastrointestinal system and its interconnected Nervous system remain in optimal function and promote the general sense of well-being.
Dr. Nikoleta Koini, M.D.
Doctor of Functional, Preventive, Anti-ageing and Restorative Medicine.
Diplomate and Board Certified in Anti-aging, Preventive, Functional and Regenerative Medicine from A4M (American Academy in Antiaging Medicine).
References:
---
"Large intestine". Encyclopedia Britannica. 2016. Retrieved 1 October 2016.
Frenkel, Erica Shapiro; Ribbeck, Katharina (2014-10-24). "Salivary Mucins Protect Surfaces from Colonization by Cariogenic Bacteria". Applied and Environmental Microbiology. 81 (1): 332–338. doi:10.1128/aem.02573-14. ISSN 0099-2240. PMC 4272720. PMID 25344244.
"Gastrointestinal Transit: How Long Does It Take?".colostate.edu. Colorado State University. Retrieved April 1, 2020.
Hall, John E. (2011). "General Principles of Gastrointestinal Function". Guyton and Hal Textbook of Medical Physiology (12th ed.). Saunders Elsevier. p. 755. ISBN 978-1416045748.
"The Enteric Nervous System". Retrieved 2008-11-29.
Morris, AM; Regenbogen, SE; Hardiman, KM; Hendren, S (Jan 15, 2014). "Sigmoid diverticulitis: a systematic review". JAMA: The Journal of the American Medical Association. 311 (3): 287–97. doi:10.1001/jama.2013.282025. PMID 24430321.
Boland, Giles W (2013). Gastrointestinal imaging : the requisites (4th ed.). Philadelphia: Elsevier/Saunders. ISBN 9780323101998.
Mack, L (June 2017). "Gestational Diabetes: Diagnosis, Classification, and Clinical Care". Obstet Gynecol Clin North Am. 44 (2): 207–217. doi:10.1016/j.ogc.2017.02.002. PMID 28499531.